Commercial ice machines allow you to keep up with your customer's demand for ice cold drinks. They also allow you to easily keep certain food items cool using ice bins. Ice machines can be found everywhere, from restaurant soda dispensers to hotel vending areas.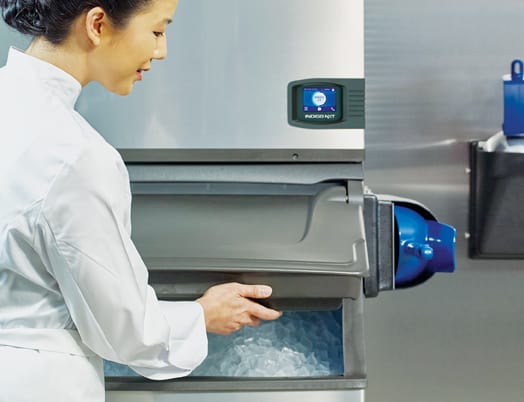 To determine which commercial ice machine is right for your business, you will need to decide how much ice you will use, based on your restaurant's capacity, and what style of ice best fits your needs. Ice comes in many different shapes and sizes, so it is important to pick a machine that can make the ice you wish to offer. Nugget and flake ice are two popular choices among foodservice operators.
If you are asking yourself "what is the best commercial ice machine?", there are two places to start. Which type of ice machine you will buy and what type of ice you want to dispense. Modular commercial ice machines are designed to produce large volumes of ice, as they are typically fitted on top of an ice storage bin that keeps ice frozen. Undercounter ice makers are more convenient, but are only capable of producing a more limited amount of ice at any given time. They can be fit under bars or prep tables, allowing maximized space optimization. Dispenser ice machines are typically self-serve machines that are attached to soda stations. Hotel ice machines and dispensers are specialty dispenser ice machines that are designed to dispense large amounts of ice at once. They typically need a separate ice bin to contain the ice that they produce.
The Kitchen Spot connects you with trusted local restaurant supply stores that partner with brands like Scotsman, Ice-O-Matic and Manitowoc for your commercial ice machine needs. Get connected with a range of experts and find the right commercial ice machine solution for you.
Expert Locator
Find your local kitchen supply expert