Are you in the market for a new commercial vent hood? Perhaps you're moving into a new location, or need to redesign your current ventilation system.
Here are some tools to help you determine the best commercial ventilation system for your location. Explore the various hood designs and styles and learn about some of the newest innovations in the commercial kitchen ventilation.
While this information will get you started, it is important to note that the interrelationship between cooking ventilation, HVAC, fire suppression, and make-up air systems is complex. It is suggested that you partner with an experienced restaurant design and build specialist to make your vision come to life.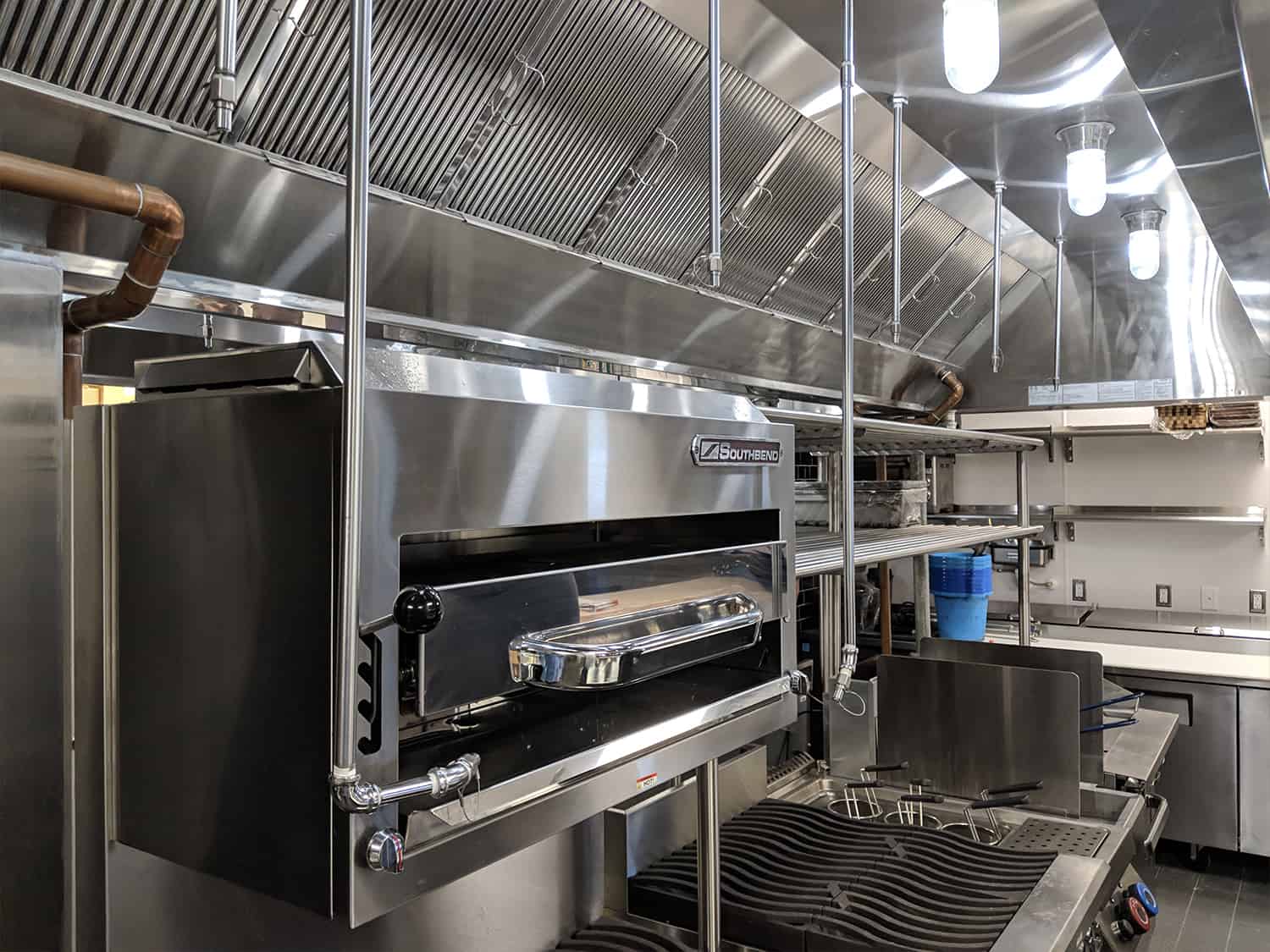 How To Choose The Right Hood System For Your Restaurant
Proper installation of a required ventilation system is necessary to meet various health, fire, and building code requirements. It is also required by insurance companies. Proper ventilation improves employee safety and health. Additionally, ensuring that excess steam, heat and odors don't make it to the dining room will improve your customers' dining experience.
Hood requirements, styles and types can make choosing one a daunting task. Your restaurant design and build specialist can help you make the right decisions, but here are some basics.
Type 1 vs. Type 2 Restaurant Hoods
Type 1 commercial hood systems are primarily used for the removal of smoke, grease-laden air, and byproducts of combustion. Almost all gas equipment will require a Type 1 hood, as will electric equipment that creates smoke during the cooking process. "Grease Hoods," as they are sometimes called, are usually located over ranges, ovens, fryers, broilers, grills and griddles. Type 1 hoods typically use baffles or filters to remove grease particles from the air and should be cleaned daily to eliminate potential fire hazards and maintain optimal performance. Some are self-cleaning.
Type 2 restaurant hoods, sometimes called "Heat Hoods", are mainly for evacuating heat, steam, and odors. They are commonly used over dishwashers, steamers, and other appliances that produce heat but not smoke.
How To Choose The Right Hood Exhaust Options
Choosing the right size hood is crucial. The International Mechanical Code dictates exhaust rates based on the hood type and appliance duty. Local codes dictate overhang requirements. Your commercial restaurant design build professional can help ensure you specify a hood that will meet your needs and satisfy all local regulatory requirements.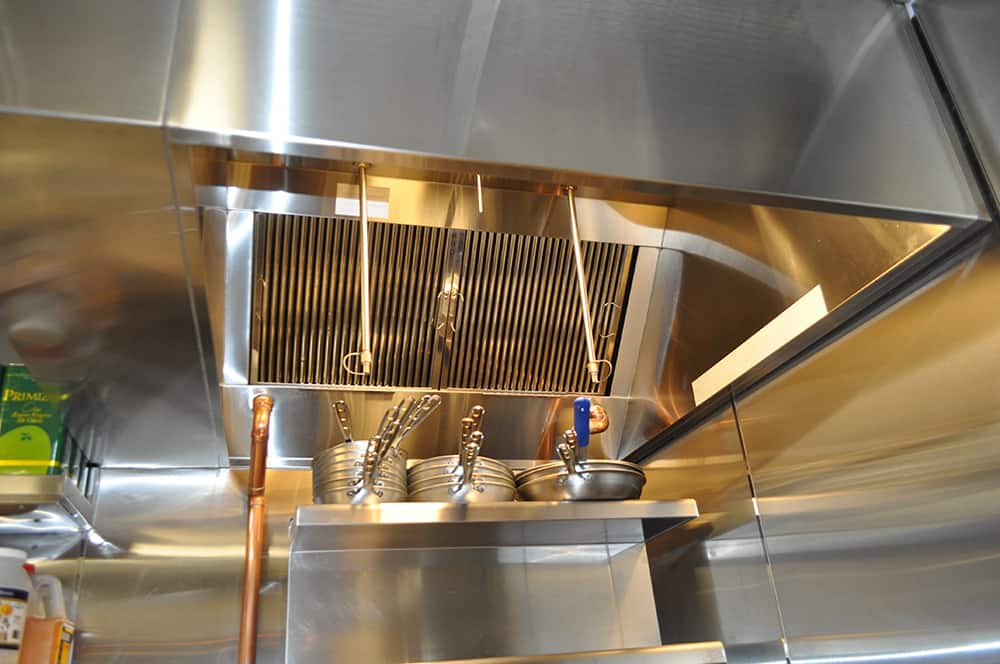 The Different Styles Of Commercial Hood Designs
Commercial vent hood design is typically broken down into six main styles,
Single Island Canopy: Ceiling mounted to overhang fours sides of a single island of cooking equipment.
Double Island Canopy: Ceiling mounted to overhang four sides of a double island of cooking equipment.
Wall Mounted Canopy: Wall mounted to overhang three sides of a single row of cooking equipment up against a wall.
Back Shelf Hood: Either wall mounted or free standing, they are typically used above counter height equipment with the front overhang set back from the leading edge of the equipment to allow head room for workers.
Eyebrow Style Hood: Directly mounted to leading edge of pizza and deck ovens.
Pass-Over Style Hood: Used for counter height equipment when a plate passing configuration (from cooking side to serving side) is required.
Ventless Hoods
Ventless hoods are gaining in popularity. These self contained units require no ductwork and employ a number of baffles, filters, and technology, similar to that found in modern automobile exhaust systems, to scrub and cool cooking exhaust. They are a popular and price effective alternative in Type 2 systems for dish machines and steam equipment. They are also perfect for kitchens where it is not possible, or permissible, to hang ductwork or cut exhaust ports into walls and ceilings. Some examples are kitchens in historical buildings, on the upper floors of high-rise buildings, kitchens with no exterior walls, or kitchens with particularly high ceilings (e.g., kiosks in malls) where it may be impractical to run ductwork all the way up to the roof.
Ventless hoods are also more mobile than permanently installed ventilation systems. Ventless hoods are typically affixed to the equipment, rather than the ceilings and walls of the building. So when an operator wants to move their kitchen and equipment to a new location, they can take their ventilation system with them. It is a considerable savings for pop-up kitchens and temporary foodservice installations that plan on relocating as opportunities arise.
Choosing Rooftop Equipment & Fire Suppression Systems
Once you have decided on the type and style of the commercial hood design best suited for your location and kitchen square footage, you now need to consider how to remove the smoke, vapor, and/or heat from the hood canopy. A typical configuration includes an upblast exhaust fan installed using a roof curb on the roof of the restaurant with a hinge kit to allow for easy maintenance of the underlying ductwork. If you have Type 1 hoods then you'll want to consider installing a rooftop grease containment system to catch any residue grease that accumulates over time inside the rooftop exhaust but also on the rooftop itself. Your commercial kitchen design build professional can recommend the best solution for your venue.
All commercial kitchen restaurants must have a fire suppression system installed, inspected, and regularly maintained. Fire suppression systems work by quickly extinguishing the fuel source, and typically use a water-based suppressant treated with chemicals to combat grease fires. Many are connected to the hood and the gas lines supplying the fuel. Once the system detects a fire it disconnects the gas line and nozzles above the cooking surface as well as inside the cooking hood, suppressing any remaining flames.
The Future Of Commercial Hood Design
As more of our lives become increasingly technological, commercial kitchens are no exception. With the innovation of energy-efficient smart appliances coming into the kitchen, technology will usher in new and innovative ways of doing anything in the commercial kitchen.
If you're working in a cooking environment that uses residential-style appliances in a not-for-profit commercial setting the Accurex Fire Ready Range Hood comes with a built-in fire suppression system. Schools, places of worship, college dormitories, fire stations, and senior living facilities are all examples of setups that could utilize an all in one restaurant exhaust.
A self-cleaning hood uses either cold or hot water to automatically clean the area immediately behind the hood filters, (the "plenum"), after cooking operations have ceased for the day. A spray bar fitted with nozzles extends the length of the hood and ensures an adequate supply of spray down for the entire plenum area and interior surfaces of baffles and filters.
Conclusion
There are many different options and moving pieces when it comes to designing and building your own commercial kitchen, but with the right knowledge and expertise, you can build the most effective hood ventilation system available. If you are ready to take the next step or even discuss your design options now that you have a better understanding of the foundational basics in commercial hood design, get connected with a restaurant design and build expert today.
References:
Berriman-USA