Operators have long kept an eye on emerging restaurant chains to identify foodservice trends and strategies for success. It's undeniable that the foodservice industry is embracing what one expert calls "delocation." Driven by technology, lifestyle changes, and attitudes about convenience, the move toward off-premises dining was underway even before the pandemic of 2020 made it a priority. Now it's here to stay, and operators who want to maximize their opportunity for success will prepare for some of the biggest off-premises trends.
Emerging Chains Are Utilizing To-Go Menus
Regardless of whether it is take-out, grab-n-go, drive through, pick-up, or curbside delivery, emerging restaurant chains that provide robust to-go service are increasing their likelihood for success in an era when dining rooms are downsizing or closing. If you're pivoting from a predominantly onsite to off-site dining strategy, you need to consider whether your menu capitalizes on the types of food that are in greatest demand. If not, you may need to modify or supplement your menu. The reality is that a mere handful of popular food items make up the bulk of all to-go orders. It varies by state, but in general, the most popular meals for take-out and delivery in the U.S. are:
• Pizza
• Chicken (including fried chicken, wings, nuggets)
• Burgers & Pub Fare (including French fries, onion rings, cheese sticks)
• Mexican (including tacos, nachos, burritos, chimichangas, quesadillas)
• Asian (including Sushi and Thai)
• Sandwiches & Salads

Preparing for To-Go Service
Shifting from predominantly onsite to off-site dining eliminates much of the fuss over things like tableware and flatware, but it means you need to beef up your selection of delivery and take-out supplies.
Take-Out Containers
In addition to a variety of wraps and foils, you need containers. Many operators offer their dining room guests generic, one-size-fits-all Styrofoam boxes to carry out leftovers. They may even use them for the occasional take-out order. But if you're trying to build your to-go business, you need to make sure your food retains its appearance, integrity, and temperature during transport. Choosing the right container for each menu item is important.
Stabbing at a salad with a fork, or cutting roast beef with a knife, quickly puts holes in the bottom of a Styrofoam container. Fried foods sealed up in plastic may lose their crunch because steam isn't allowed to vent. For items like mac & cheese or lasagna, steam retention is actually a plus. It helps maintain temperatures and keeps food from drying out. Anything that leaks, spills, or soaks through cardboard containers, such as sauces, gravies, juices, grease, or dressings, is a thumbs down for your operation. Evaluate your menu items in terms of how well they travel. Talk to a Kitchen Spot Expert. They can recommend the best containers, from suppliers such as Essendant, for each item on your menu.
Take-Out Utensils & Condiments
Best practices post-pandemic call for sealed packages containing disposable utensils, napkins, and condiments. For your customers, sealed means "safe" and not touched by an employee's hands. Sealed condiments ensure freshness with no risk of prior contamination. A Kitchen Spot Expert can help you find sources for whatever utensil packs you need.
Equipment For To-Go Operations
Many emerging chain restaurants already focus on one or more of the most popular to-go food items discussed above. But when adding or expanding a menu, additional equipment or upgrades may be a good option.
Commercial Pizza Ovens
Pizza was the original take out meal. And many emerging chains recognize that it's possible to participate in the lucrative pizza take-out and delivery market without installing a large, centralized brick or deck style oven. Conveyor pizza ovens, like those manufactured by Lincoln and Star, can produce consistently good pizza without the skill required to operate a more traditional style pizza oven. Additionally, several manufacturers have convection style countertop ovens that produce good quality pizza fast. A Kitchen Spot Expert can suggest the right brand for your operation such as Nemco, Waring, Vollrath, and more.
Commercial Fryers
Fried foods are wildly popular and many emerging chains capitalize on that fact. They're frying more chicken, French fries, onion rings, cheese sticks, Chimichangas, tortilla chips, crab Rangoon, eggrolls, tempura, chicken sandwich patties, fish sandwich patties, and even chicken strips for fried chicken salads. Evaluate your frying capabilities. Manufacturers such as Pitco and Frymaster offer full sized low oil volume fryers that are simple to maintain and easy to operate while keeping oil costs down. Or perhaps a smaller countertop fryer like those offered by Globe, Star and Wells would help you add a few high demand fried items to your menu. A Kitchen Spot Expert can help you determine whether you need to add a fryer, or upgrade your current frying battery.
Pizza & Sandwich & Salad Prep Tables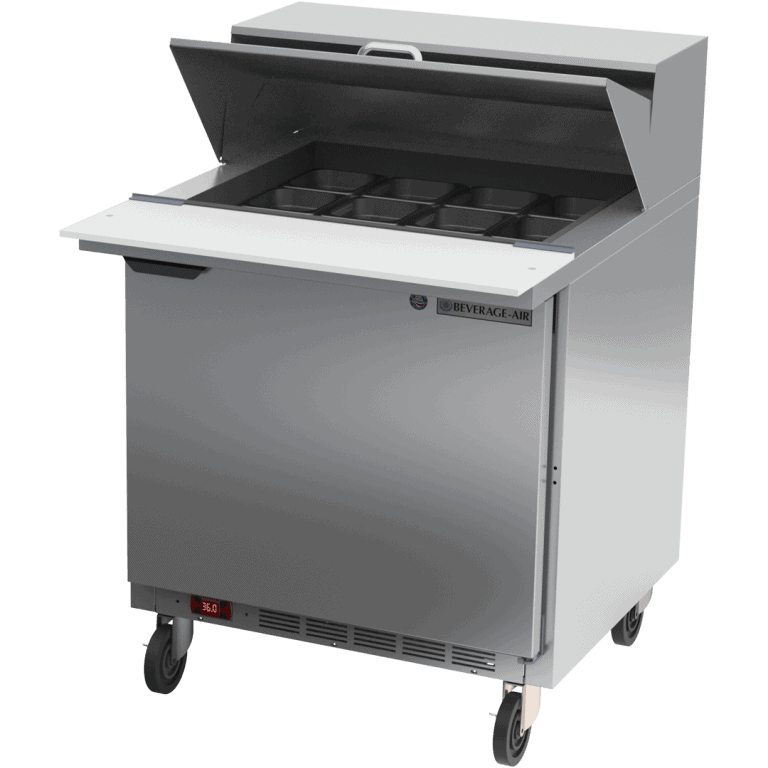 Emerging chain restaurants recognize that speed is a must in the world of take-out. Whether you're assembling pizzas, sandwiches, or salads, a refrigerated prep table puts your most commonly used ingredients at your fingertips with back-up stored in a cabinet below. They feature a work area or cutting board, and come in a huge variety of sizes, designed for either front or back of the house use. They keep cold ingredients safe and fresh until ready to use. Prep tables are like a stand-alone work station where a single individual can process orders quickly and efficiently. Brands like Beverage Air, True, Delfield, Traulsen, Continental Refrigeration, Turbo Air, and many more, offer units that can help you turn orders out faster. A Kitchen Spot expert can help you decide which model is best for you and your menu.
Grab-N-Go Merchandisers For Take-Out & Delivery Efficiency
Whether hot or cold, there is a huge market for grab-n-go food. From snacks to meals, and sides to desserts, the service is virtually instantaneous and quite often driven by impulse. Either way, both hot and cold food must be displayed, or "merchandised" prominently and attractively, while still maintaining safe temperatures. There are an enormous number and variety of merchandisers available. And merchandisers aren't just for retail and convenience stores. Emerging chains place merchandisers at strategic locations near customers pick up points to generate incremental sales in beverages, desserts, side dishes, frozen meals, and more.
Compact Dishmachines
Operations moving toward an off-site dining model will find less of a need for large, multi-door dishmachines. With no flatware, dinnerware, glassware, or serving-ware to wash, a more compact unit may suffice to clean up pots, pans, and cooking utensils. While it may not make sense to replace a unit for the sole purpose of downsizing, if you're already looking to replace a dishmachine, or redesigning your kitchen layout, then you may want to consider a more compact unit that takes up less floor space. A Kitchen Spot Expert can help you choose a model from a top manufacturer like Champion, Jackson, CMA and others.
Meal Delivery Equipment
Meal delivery is a growing factor for emerging chain restaurants. Whether setting up their own delivery infrastructure, or capitalizing on the growth of third party services like Uber Eats and Door Dash, meal delivery is part of the growing off-site dining phenomenon. In addition to much of what is required to operate a successful to-go operation, emerging chains are looking at some additional equipment solutions for holding food prior to pick-up.
Heated Shelving
Traditional heat lamps and holding cabinets are designed for plated meals or food pans that are being held for service. They don't work as well for food that has been wrapped, packaged, and bagged. Emerging chains are installing heated shelving units. These units help keep orders organized and warm until the delivery person arrives to pick them up.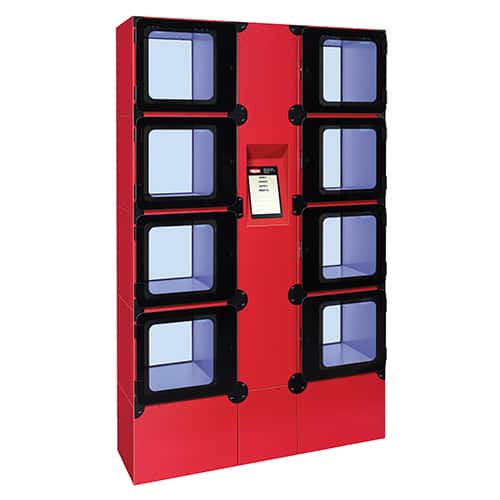 Additionally, they can be located in convenient pick-up areas away from the main cooking line or serving stations. While companies like Hatco make individual units that provide a warm surface platform for virtually any existing shelf, manufacturers like Metro make complete multi-shelf units where one or more shelves can be turned off when not in use.
Food Lockers
For added security, and touch free pick-up, some emerging chains are installing secure food lockers. Also designed to keep individual orders organized and warm prior to pick-up, they feature individual compartments that are only accessible using an access code previously provided to the delivery driver via email or text. These lockers keep orders safe and ensure that drivers can't take the wrong order. Some emerging chains are installing food lockers specifically designed to hold pizza boxes. A Kitchen Spot Expert can help you find a food locker solution for your operation.
Ghost Kitchens
Perhaps the biggest trend in emerging chains is Ghost Kitchens. These are kitchens without any on-site dining or customer area. Their menu exists entirely on the Internet where people place orders in a virtual restaurant. Either the operator or a third party delivers the orders. A single commercial kitchen can support any number of different menus or "virtual restaurants" all being cooked by the same cooks in the same location. Because there is no customer area, location is not as much of an issue. The kitchen simply needs to be close enough to its customer base to deliver meals within the 30 minute window recommended by experts.
Ghost kitchens are faced with all the same challenges as other operators in the meal delivery segment, but because of their peculiar nature, a few additional trends have emerged.
Combi Ovens
As mentioned, a single Ghost Kitchen can support any number of menus from a single location, so emerging chains following a Ghost Kitchen strategy typically choose the most versatile cooking equipment available. Combi ovens are an example, and combi manufacturers are reporting a rise in sales due to Ghost Kitchens. Combi ovens feature convection heat, steam, or both. They can be used for roasting, braising, baking, steaming, rethermalizing, sous vide, pressure canning, batch cooking, holding, oven-frying and more. Numerous manufacturers offer combis with varying degrees of programmability and control. An operator seeking to run a Ghost Kitchen, or offer a Ghost Kitchen menu from an existing location, would do well to own a combi. A Kitchen Spot Expert can help you choose a model that fits you menu and volume.
Ventless Cooking For Ghost Kitchens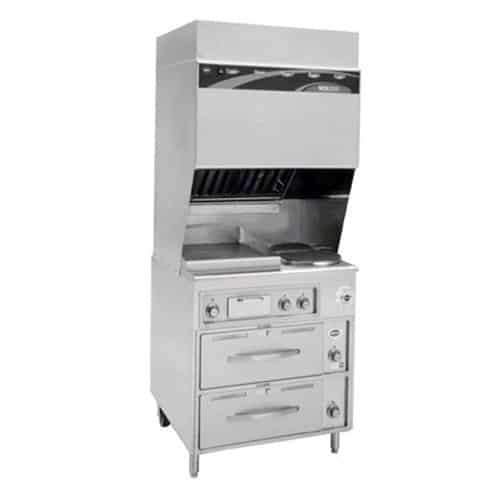 Many Ghost Kitchens operate in non-traditional spaces. Because the bulk of their customer interactions take place online, emerging chains don't need to look for a high traffic, high visibility commercial space excessive parking. Lower rent spaces may work just fine, even if they weren't originally designed for restaurant use. The only obstacle is that building and health codes require certain types of ventilation for commercial kitchens. Hood systems are usually ceiling or wall mounted, with ductwork that vents exhaust to the roof or side of the building. Installing a permanent hood system can be expensive, impractical, or even impermissible.
Ventless hoods systems are ductless. They use a series of filters, including technology similar to the catalytic converters used in cars. They scrub and clean grease laden air and smoke. Sometimes they come "built in" and are permanently attached to a particular piece of equipment. The Wells ventless fryer is an example. Alternatively, ventless systems can be stand-alone units under which the operator places any kind of equipment they need.
The advantage is that ventless hoods allow commercial kitchens to operate in non-traditional spaces. Additionally, ventless hoods can go along to a new location if the operator decides to move. They aren't affixed to the ceilings and walls of the vacated space. Ventless hoods are also useful when, for example, an existing operation wants to add a new piece of equipment, but doesn't have any more room under their existing hood. In those cases, ventless equipment may be a better solution than a complete upgrade of the existing system.
Conclusion
Emerging chains are planning for a significant percentage of their business to come from take-out, grab-n-go, drive-through, pick-up, curbside service, and meal delivery. While all of these differ in subtle ways, all require operators to sell food for consumption outside of their traditional dining rooms. From menu selection, to packaging and equipment options, emerging chains and savvy operators are making choices that will appeal to their customers, ensure the quality and integrity of their take-out fare, and give them flexibility to respond to changes in the industry and customer demand.