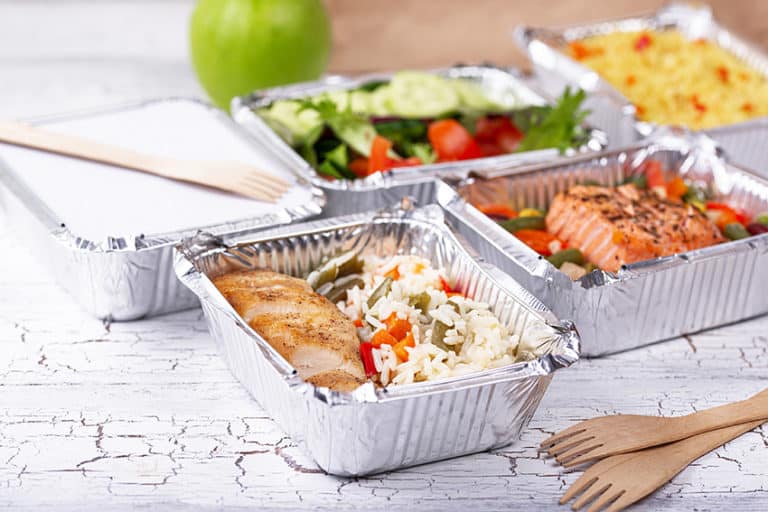 Restaurant food delivery and takeout services continue to be on-trend for restaurants. Many foodservice establishments have even developed their own online food delivery systems to self-manage takeout and delivery in house! Positioning yourself to expand into the delivery and takeout side of foodservice may seem like an overwhelming feat. Let's break down the positives and negatives of expanding into these services, and the necessary steps to take.
What The Stats Say About Restaurant Delivery & Takeout
According to NRN, 51% of Americans order delivery from restaurants – 26% of them weekly
According to Statista, 34% of people spend up to $50 when ordering online food delivery
Restaurant Business Online reported that 60% of restaurants agreed that offering delivery increases food sales
NRN reported that partnering with third-party delivery companies can raise restaurant sales up to 20%
The answer speaks in the data – it's likely that outfitting your restaurant operation to support food delivery and takeout services is the right move.
How To Be A Delivery & Takeout Pro
Step 1 – Consider Your Restaurant Space
Making sure that your restaurant space is designed for success in food delivery and takeout operations is key. The last thing you want to do is cause a rift in your Friday night dinner service due to an overwhelming amount of delivery orders piling up on your host stand or kitchen food pass. That's why it's important to redesign your front of house and back of house to ensure you're ready for the influx of orders.
Create a separate space in your front of house for takeout and delivery
Consider a dedicated team member who manages to-go orders
Add additional space within your food pass, and a dedicated overhead warmer
Build a Grab-N-Go area in your front of house with cold and heated merchandisers
Upgrade to multi-tasking commercial equipment
Consider This Product: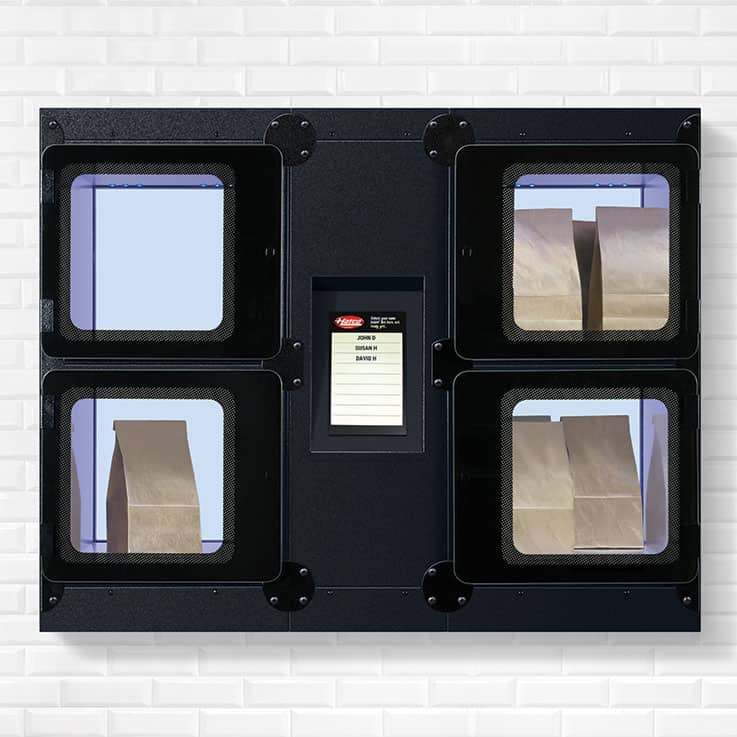 Hatco F2GB Flav-R 2-GO® – Built in locker system holds your hot or chilled to-go orders in style
Step 2 – Disposables & Tools To Enhance Food Quality
When someone has ordered a meal for pickup or delivery, they expect the food to taste the same as what they've experienced at your restaurant. When you invest in the right food transport and delivery equipment, disposables, and food thermometers, you can easily deliver the meal they expect. For example, some disposable packages continue to heat the food while it's being delivered – so your perfect temperature from heat to plate in your restaurant may be different for takeout.
Cook and chill meals to the proper temperature, considering the transport time
Choose the right disposables for each menu item
Upgrade to heavy-duty food delivery and takeout equipment
Choose moisture resistant, insulated delivery bags
Some disposables are vented, made to ensure your takeout meal can breathe. These disposables can also eliminate heat more quickly, which is where materials like non-vented plastics or Styrofoam come into play. Although non-vented disposables keep food hot, they also make the food sweat, which can make fried foods soggy upon delivery. With food safety concerns at an all-time high, brands have designed tamper-proof disposable packaging and bags to ensure your meals are untouched during delivery. These takeout containers and bags come with sealed lids and tape closures, making it impossible to breach without notice. It's important to partner with a restaurant supplier that can recommend the right eco-friendly and traditional disposables for your takeout menu.
Step 3 – Choosing Third-Party Delivery Or In-House Delivery
Third-party delivery has continued to grow and be a very popular way to integrate delivery services into your dining establishment. Though this model can add dollars to your bottom line, there are many pros and cons to consider. The tools that you rely on can help you increase your profitability with in-house delivery services.
IN-HOUSE DELIVERY SERVICE
The Facts
You control the customer experience
Can offer shorter delivery times
More control over menu options
Higher start up fees
Dedicated staff needed
POS system integration for easy service
Consider These Products: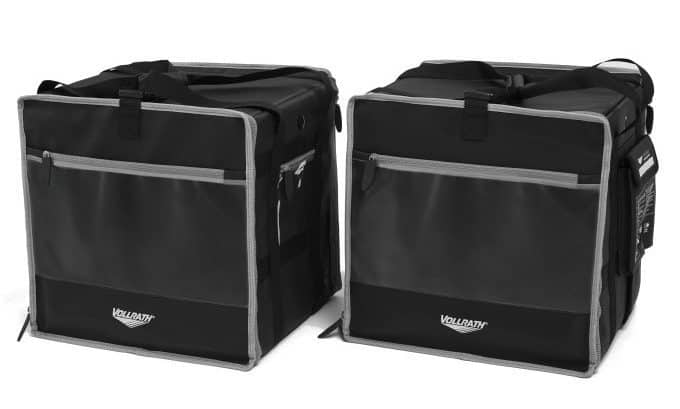 Cambro® Pro Cart Ultra® – Maintains hot and cold foods for 4+ hours
Vollrath® Backpack Bags – Moisture resistant, heavy duty insulation maintaining temperature
THIRD-PARTY DELIVERY SERVICE
The Facts
Completely outsourced delivery via online apps
Less need to invest in start-up tools
Third-party marketing management
Third-party app fees leading to lower profitability
Less control on menu items
Step 4 – Develop A Custom Menu
Expanding your business model to include delivery and takeout will only generate revenue if the menu is curated to streamline your resources. Your first thought might be to try and offer every possible menu item that you can. Although this sounds like it will bring in the most volume, it's more important to consider your back of house capabilities.
Which items should I add to my takeout and delivery menu?
Popular menu items
Cover multiple menu items by minimizing the number of ingredients
Food that can be prepped fast and consistently
Meals that take up less space
Meals that stay fresh in chosen disposables
Do you have the right commercial equipment to effectively implement a takeout and delivery menu? Commercial brands like Southbend® and Vulcan® have convection cooking equipment solutions that can help manage cooking your popular meals when prepped and held effectively. Pitco®'s line of Solstice Supreme fryers offer automated controls to help cut down physical time spent with your commercial fryer. With tools like these, you can offer more on your menu, without adding additional time to your cooking process.
Take On Takeout & Delivery
Now that you understand the ins and outs of the popular food delivery and takeout model, let The Kitchen Spot connect you with expert design and restaurant supply stores. These experts can help you select the right products for takeout and delivery expansion as well as tackle any redesign needs to accommodate your space.