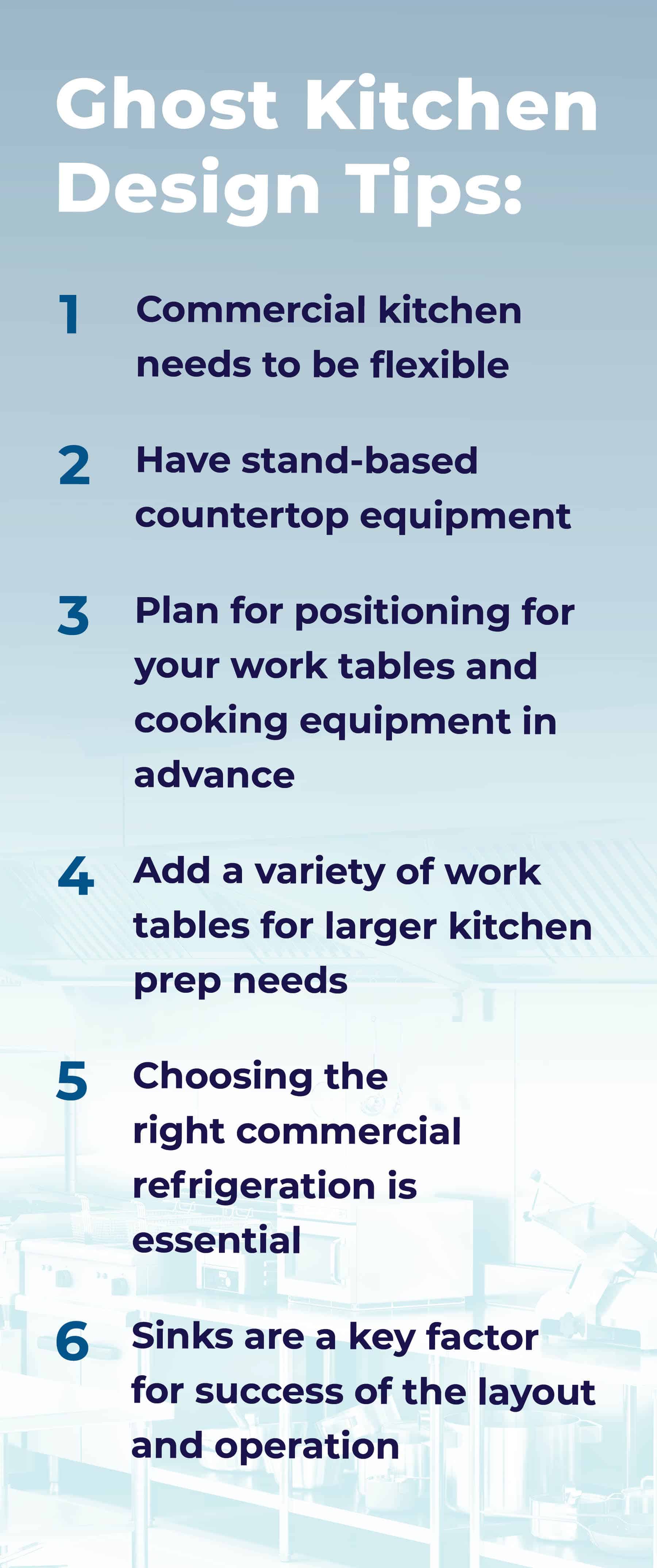 If you are wondering what ghost kitchens are or know something about them but want to hear from someone who has helped design and implement one, you have come to the right place. We were excited to hear from Nick Pasquarello at Deacon Foodservice Solutions about his experience designing and implementing changes to create a ghost kitchen. He shared valuable insights to help support restaurants and foodservice operators in understanding how to design a successful ghost kitchen.
Keep reading to learn how to work with a designer for your kitchen — but first, check out these tips that we learned during our interview:
Ghost Kitchen Design Tips:
Commercial kitchen needs to be flexible
Have stand-based countertop equipment
Plan for positioning for your work tables and cooking equipment in advance
Add a variety of work tables for larger kitchen prep needs
Choosing the right commercial refrigeration is essential
Sinks are a key factor for success of the layout and operation
Sign Up For More Great Content In Your Inbox
Ghost Kitchens
Briefly stated, a ghost kitchen is a professional food preparation and cooking facility set up for preparing delivery-only meals without a dining area for walk-in customers. Restaurants that use ghost kitchens may have a different physical location for walk-in customers, or a delivery-only ghost restaurant. Shared commissary spaces focusing on delivery are also referred to as central kitchens, rent-a-kitchens, ghost kitchen facilities, dark kitchen facilities, virtual kitchen facilities, or cloud kitchens.
If you are going to use some extra space from your existing brick and mortar restaurant and turn it into a space for ghost kitchen operations, this will make branding a little less complicated. Whether you are using extra space or you are an entrepreneur on a new mission, make sure to follow words of wisdom from this designer to develop a successful takeout or food delivery option for your customers.
Ghost Kitchen Tips: From The Designer
Nick Pasquarello at Deacon Foodservice Solutions told us, "While flexibility is a consideration for all kitchen designs, it becomes more important for commissary kitchens as the needs of the clients will probably change. The clients served in these locations include mostly caterers and food trucks."
The clients and projects he worked on contained one or two main cooking lines considered "shared-use" that include large exhaust hoods outfitted with double-stack convection ovens, combi ovens, an electric smoker, a tilt skillet, and some combination of countertop cooking equipment (hotplates, griddle, charbroiler, etc).
Kitchen Space
Space, aside from equipment space, is your most important element. Here is some feedback that was given to the designer by the owners and how this can help you when looking to design or hire a designer for your ghost kitchen project:
Based on feedback from Nick's clients, here are some tips on kitchen facilities:
Use countertop equipment with an equipment stand base as opposed to an oven base because those ovens rarely get used. Therefore, they're not worth the extra cost and are more suited to have separate convection ovens for easier access.
Typically, there are work tables on casters opposite the cooking equipment that serve as a prep space/landing area.
It's unnecessary to have sandwich/salad prep refrigeration in these areas, as the food is not being plated or served immediately.
Ghost Kitchen Design Elements
Kitchen facilities and other aspects to think about and discuss with your designer:
A centrally located office with windows to view the main cooking production area
A large shared dish area
High-capacity ice machine for shared-use
Lockable dry storage cages
Lockers for clients
Large prep area with plenty of work tables on casters
Outlets for prep equipment
Good real estate or place to rent with ample sized parking lots for food trucks and clients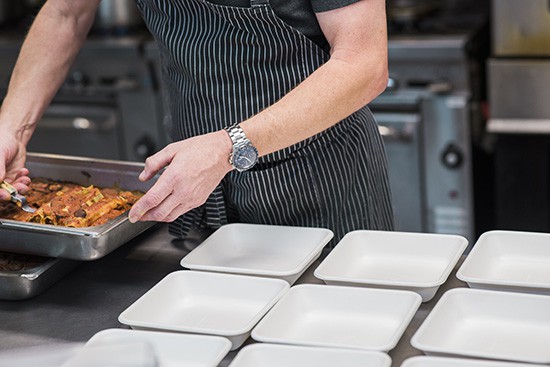 Ghost Kitchen Equipment
Taking on a project or a start-up ghost kitchen as an entrepreneur or chef will require a change in equipment, especially if you are more accustomed to a brick and mortar restaurant. So while we interviewed Nick, he had some other insights in not just what kitchen equipment and space was needed — he talked specifically about refrigeration.
Walk-in refrigeration and freezer space are vitally important, and he recommended having a redundant system with temperature alarms in place. This allows the space to sell as an insurance policy to help ensure they don't lose valuable products. Within these walk-ins, shelving with dividers or labels becomes helpful to show which products go where.
What else? Of course, there will be the main cooking lines, but Nick had some good ideas on the extras, like sinks and oven recommendations for your ghost kitchen.
Besides the main cooking lines, there are several condos or private suites for individual clients that include:
6–8 foot exhaust hood
Double stack convection oven
Hot plate with equipment stand
Reach-in refrigerator & freezer
Worktable & hand sink
Prep sink
Three-compartment sink
Pro Tip: "Depending on how the owner of the space wants to handle the suites, these can either be outfitted with a standard cooking equipment package or no cooking equipment added until the clients bring or purchase their own. If you choose the latter scenario, it's important to check with local regulations regarding the future equipment on the plans. Ansul nozzle location is another consideration that will need to be determined after you select the equipment or in place."
Labor Costs
After Nick shared his experience and insight, we did a little of our own research on the labor costs. It will relieve you to know that a start-up ghost kitchen is a lot cheaper to start than a brick and mortar location restaurant. This is especially true if you lease versus purchase real estate. Owners typically face $750,000 to $1.2 million in expenses to open a small restaurant in a high-demand urban area in places like Chicago, for example. For your ghost kitchen start-up, you can typically lease in a less expensive area, or even rent a finished commercial kitchen for under $20,000.
Keep in mind that running a ghost kitchen will typically rely heavily on third-party delivery service, for example, UberEATS, Doordash, or GrubHub to name a few delivery platforms. Next, consider the labor costs of employees. It may sound counter-intuitive, but maintaining staff at all times versus seasonal may be cheaper in the long run, as seasonal help will more than likely charge more for their services. Similar to a brick and mortar restaurant, you will still have payroll and other similar expenses to manage that include labor costs.
Nick states, "I think it's important we embrace change and focus on educating both our clients and ourselves so we can better serve the industry. Ghost kitchens will continue to increase in popularity, and we will provide more value if we continue to share best practices."
Whether you are just beginning your journey to startup your business venture in a ghost kitchen or you are expanding your branding of an existing business, take the words straight from the designer and make the most out of your new beginnings.