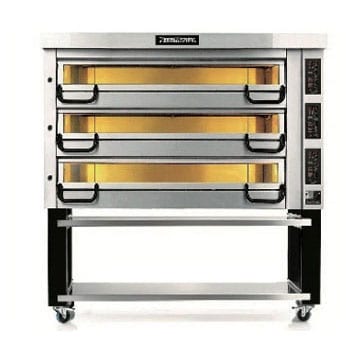 Pizza chefs and aficionados have long touted the superiority of pizza baked in a classic original style wood-fired brick oven. The high temperatures and heat delivery methods produce textures and flavor profiles that just can't be achieved using a Range Oven, Convection Oven, or Conveyor Oven. Unfortunately, the prospect of burning solid fuel indoors, constantly tending the coals, and spending years, or even decades, mastering the art of baking in a wood-fired oven, frequently drives operators to seek other options. Lucky for both operators and pizza connoisseurs alike, gas and electric Pizza Deck Ovens are designed to replicate the attributes of their wood-fired equivalents and are much simpler to own and use. In an era when take-out and delivery is on the rise, many restaurants and commercial foodservice operators are looking to expand their menus, and add popular items that can be prepared quickly and travel well. Selecting a Pizza Deck Oven from a top manufacturer can help you deliver a high quality product that generates additional revenues with repeat business.
Conventional Deck Ovens vs Pizza Deck Ovens
In the commercial foodservice equipment industry, the terms "Deck Oven" and "Pizza Oven" are too often used interchangeably. At first glance they may look like the same piece of equipment, but there are key differences that make one or the other more appropriate depending on the intended use.
Deck Ovens: Versatility With Multiple Applications
Deck ovens are the workhorses of a typical restaurant or commercial kitchen. They feature a cooking compartment that is wider and deeper than it is tall. The "deck," or floor, is usually a flat steel surface. Items like bread can be placed directly on the deck for baking. Meats, and a vast array of other food items, can be prepared using various types of pans or sizzle platters. With a temperature range of 200°F to 500°F, the conventional Deck Oven is adequate for nearly any baking or roasting needs.
Uniquely suited for bakery applications, Deck Ovens must also have a high enough ceiling to accommodate full sized loaf pans with dough rising as much as three inches above the rim during the baking process. As such, they're also tall enough to accommodate whole cuts of meat, like a prime rib roast or steamship round, as well as poultry, like whole chickens, turkeys, or ducks. Versatility is a hallmark of the traditional Deck Oven.
Pizza Deck Ovens – Optimal Performance For A Specialized Application
Pizza Deck Ovens are a special kind of Deck Oven. They are designed for a more specialized purpose: great pizza. Of course they can be brought into service for other applications as well, but the features listed below are specifically intended to improve pizza quality, shorten baking time, and maximize production capacity when pizza is on the menu.
Higher Temperatures – Pizza Deck Ovens bake at higher temperatures. Pizza Deck Ovens manufactured by companies like Bakers Pride, Blodgett, and Marsal can reach temperatures of up to 650°F. PizzaMaster Pizza Deck Ovens have a top setting of 932°F. Higher temperatures allow for a very rapid bake that browns and crisps dough before it becomes saturated with tomato sauce and moisture from the toppings. Cheese is melted thoroughly, and toppings are caramelized to create unique and complex flavor peaks that can't be achieved at lower temperatures.
Stone Decks – Pizza Deck Ovens often feature a cooking deck made of stone, ceramic, or a natural baked-clay. Pizzas are transferred from a pizza paddle (or "peel") directly onto the deck's surface for baking. Heat is transferred into the dough by way of conduction (i.e., direct contact). Materials differ, but the concept is the same. These stone-type decks are believed to provide a more even bake than a metal surface, without hot spots that can burn or char the crust.
Low Ceilings – Pizza Deck Ovens also feature lower ceilings than other ovens. Even a Chicago Deep Dish Pizza rarely exceeds 2 to 3 inches in height, so lower ceilings are possible, as well as desirable. Low ceilings concentrate radiant heat over top of the pizza for better heat penetration with a fast and complete bake. While manufacturers differ, Pizza Deck Ovens have an interior height of 7 to 8 inches, while a conventional Deck Oven tends to be 10 inches or higher.
Stackability – The low height of Pizza Deck Ovens also makes them ultimately stackable. While conventional Deck Ovens, and other types of ovens, are occasionally stacked as much as three high, PizzaMaster, for example, has Pizza Deck Ovens stacked up to five high. This exponentially increases production capacity without taking up any additional floor space in your kitchen.
Bottom & Top Temperature Controls – Not available on typical Range Ovens or Convection ovens, Pizza Deck Ovens feature separate controls for both the bottom and top of the baking compartment. The bottom control ensures that crusts are browned completely without charring. The top control ensures that cheese and ingredients are fully cooked to the desired level of doneness. Some electric Pizza Deck Ovens, like PizzaMaster ovens, feature fully digital controls for increased ease and precision. Gas Pizza Deck Ovens like Blodgett and Marsal ovens, employ bottom and top dampers to direct heat within the baking chamber.
Durability and Simplicity – Pizza Deck Ovens are typically constructed with a steel interior and a steel or aluminum exterior. Their simple and rugged design features many fewer moving parts than a Conveyor Oven or Convection Oven. With low maintenance operation, it's not uncommon to see Pizza Deck Ovens that have been in service for up to 50 years.
Cleanability – The interior of a traditional Pizza Deck Oven does not feature exposed heating elements, burners, fans, heat jets, baffles, conveyor belts, racks, or rack supports. All the surfaces are smooth and simple to clean following manufacturer's instructions. Stone decks are typically brushed or scraped clean without water (using water can result in cracks).
Gas or Electric – Pizza Deck Ovens come in gas or electric. Each has its advantages. 

Utility costs and the availability of natural gas in your area are factors. A Kitchen Spot Expert can help you do a utilities cost analysis for your location.
Gas ovens heat up faster and respond more quickly to changes in temperature settings. This can result in faster results for high production operations.
Electric ovens are more accurate when trying to achieve and maintain a given temperature.
For lightly topped pizzas, gas is often said to provide a moister heat that allows for better and more even browning without drying out the product.
For heavily topped pizzas, piled high with moisture laden ingredients, electric heat is said to be dryer, allowing more moisture to be sucked out of fresh vegetables and thinner sauces.
Some manufacturers, like PizzaMaster and Doyon, offer electric Pizza Deck Ovens with a steam feature that adds moisture to the baking compartment if needed.
Gas ovens must be operated beneath a hood designed to vent the byproducts of gas combustion. Depending on local codes, electric ovens may be exempt. A Kitchen Spot Expert can help you navigate the health department and building codes in your area.
Popular Brand Pizza Deck Ovens