Whether you are opening a new restaurant or just want to revamp your existing space, the kitchen should be a main focus. Without appropriate appliances, utensils, pots, pans, and everything in between, the quality of your culinary efforts could be compromised. Since there are so many essentials and must-have items for kitchens, it can be hard to know where to start. Here is acomplete guide for all the tools and equipment you need in your modern, professional kitchen.
Cutlery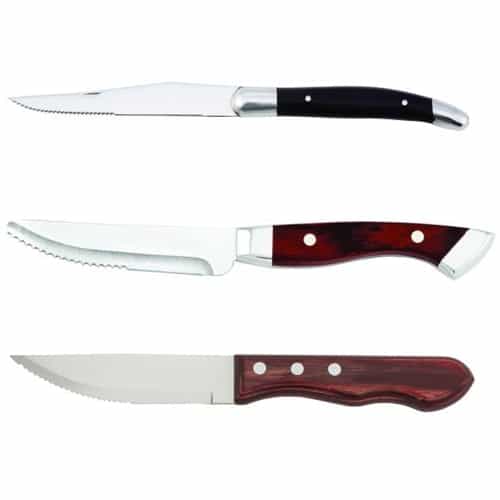 Excellent preparation is the cornerstone of any memorable meal. From slicing to dicing to chopping, chefs need to have the best cutlery to get their meals started off on the right foot. Knives, cutting boards, sharpeners, and more — The Kitchen Spot Experts are here to help.
Knives
For the serious cook, one of the most important tools in the kitchen is a chef's knife. This versatile knife is a necessity that handles a wide range of cutting and chopping styles. Depending on the types of food you are making, you could also invest in bread knives, fillet knives, boning knives, and more. A good knife can be a multi-use tool in the kitchen and it is convenient to have a variety of knives on hand to help you prepare any meal.
Sharpeners
Knives become dull with use and when you're in the throes of the dinner rush, the last thing you need is a blunt knife. Sending your knives out to a sharpening specialist can take a few days and you may be without your favorite tools for longer than you'd like. We recommend having an electric knife sharpener in your professional kitchen. You'll be able to quickly sharpen your knives whenever you need, and immediately return to your meal prep.
Cutting Boards
When using a quality knife, look after it by using it on a high-quality cutting board. You should always have a couple of cutting boards in your professional kitchen to help avoid cross-contamination. Meat should not be cut in on the same surface as fruit or vegetables, so all chefs know to avoid this scenario. In general, it is recommended that you have a plastic board for cutting meats and a wood board fruits/veggies to maintain professional cleanliness and food preparation standards.
Pots and Pans
High quality pots and pans are other must-have kitchen items that make cooking a pleasure. There are different types of pots and pans you can get, depending on your preference, and they help to complete the functionality of your kitchen.
Non-Stick Pans
Non-stick pans are an option that can make cooking a much smoother experience when required. Non-stick pans have a Teflon coating that makes cleanup easier and faster. However, non-stick pans cannot sear or brown food the way other pans can, so that is something to keep in mind if you are hoping to cook that way.
Cast Iron Pans
There is still a place in the kitchen for quality cast iron pans. Many people love cooking with cast iron pans because of their searing and braising capabilities. When you invest in cast iron for your professional kitchen, look for pans with smooth surfaces and be sure to season them properly to make them last for decades.
Stainless Steel Pans
Stainless steel pans are possibly the most durable pans available and have become chef essentials in many modern kitchens. You can cook any type of food in these pans and they are known for their ability to create a beautiful sear on anything you cook.
Small Appliances
Bit-ticket items like the oven and range aren't able to cook or help you prepare every type of food that you want to serve. That's where small appliances come in. From electric mixers to beverage equipment and measuring tools to timers, there are a variety of small appliances that are essential to help your kitchen run smoothly.
Blenders
In a professional kitchen, it's not likely that you'll only find a regular stand-alone blender. It is customary to invest in a couple of immersion blenders, depending on what food you make. These blenders are used to mix and blend solid and liquid ingredients in the pot or bowl they are created in, which saves you time and cleanup from having to transfer mixtures from place to place.
Beverage Equipment
In addition to immersion blenders and regular blenders, there are other beverage equipment items that you can add to your professional kitchen. Juicers are great for allowing you to serve fresh fruit juice to your customers. Do you want to add milkshakes to your menu? A milkshake mixer allows you to rapidly whip up delicious malts, milkshakes, and other treats.
Mixers
Immersion blenders are ideal for solid and liquid ingredients, they don't work with many dry ingredients. Add an electric mixer to your arsenal of chef tools in your professional kitchen. With an electric mixer you'll have the versatility to create bread dough, whip up a large batch of eggs, and more.
Toasters
If you are serving any type of bread product in your restaurant, consider purchasing a commercial toaster. Take your pick from traditional pop-up toasters as well as conveyor and bun-grilling toasters. The Kitchen Spot Experts have a range that offers you all the options you need to toast delicious food in your kitchen.
Food Processors
Looking for a kitchen appliance that practically does it all? You're seeking a food processor. These time-saving kitchen accessories are able to chop, slice, shred, and puree practically any food you can think of. Depending on which model you choose, it can also operate as a juicer or meat grinder.
Manual Slicers
Achieving uniform, thin slices of food can be difficult with a regular knife, but manual slicers can handle this task with ease. Whether you are slicing deli meat or produce, you can trust a manual slicer to get the job done quickly and efficiently. When you are on the lookout for a must-have chef's tool for your modern kitchen, turn to a manual slicer.
Measuring Tools
Cooking and baking are art forms but also require some precise science to ensure everything turns out properly. This is where measuring tools come in. Meat must be cooked to the proper temperature to ensure that it is safe for consumption, so meat thermometers are vital to a kitchen's overall reputation. Additionally, fridges and freezers have their required temperatures as well, so invest in thermometers for those appliances as well.
Kitchen scales and measuring cups are essential for properly measuring dry and liquid ingredients. Whether it is a digital or dial scale or a large measuring cup, these are essential tools for any professional chef.
Large Appliances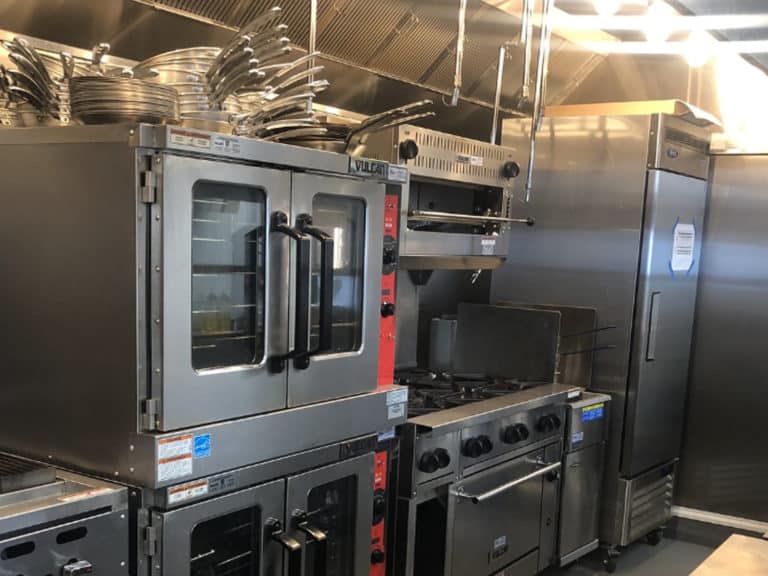 Large appliances are a linchpin of any professional kitchen. These appliances are the ones responsible for the majority of cooking, no matter what type of food your or your team are creating. Ensuring that you have proper, efficient large appliances is a key component to keeping your kitchen running smoothly.
Range
A range is a combination of a stove and ovens, and are also common in home kitchens. However, the difference in a restaurant range is that there are usually 10 burners and two ovens compared to four burners and one oven in the home model. Industrial ranges give you the ability to cook multiple meals on top, while also utilizing the ovens — the secret to quickly preparing everything your customers want to see on their plate within minutes of ordering.
Deep Fryer
Fried food is extremely popular in restaurants across the county so investing in a deep fryer for your professional kitchen could be a profitable decision. Many foods such as french fries can be fried on their own or after being dipped in batter. Pickles, hush puppies, onions and even cookies can be fried and the options can be endless if you're adventurous enough. Put a deep fryer in your kitchen to enjoy traditional fried foods as well as experiment to create your own innovative fried delights.
Oven
While ovens can be attached to a stovetop in the form of a range, restaurants can also invest in free-standing ovens if they work best for your kitchen. These are typically convection ovens that offer a faster, more even cooking experience to help you get delicious food on tables faster. You could also add tabletop ovens that slowly pull food through while cooking it quickly. There are so many options for ovens and The Kitchen Spot can help you find the perfect solution for your professional kitchen.
Grill
Do you plan on serving burgers, hot dogs, or other grilled foods? If so, you'll need high-quality grills or griddles in your kitchen. While a roller grill is perfect for hot dogs, there are better alternatives for hamburger patties, steak, or pancakes. At The Kitchen Spot, we offer grills/griddles in a variety of sizes to accommodate any type of food that you want to make.
Hand Tools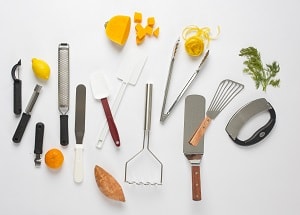 Hand tools are another chef essential in a modern kitchen because, let's be honest — a spoon won't suffice for everything you need to do in the kitchen. Arm yourself with the correct tools for any eventuality, from whisks to spatulas, peelers to tongs, and everything in between. When you need hand tools, we are here to help.
Spoons
Stirring, taste-testing, mixing, and more are typically done with spoons and it is a comfort to have a variety in your kitchen to accommodate all types of tasks. Ladles, which can fall in the spoon category, are also essential for scooping up food (typically liquids) and plating it for your customers.
Whisks
Whisks are a fuss-free way to quickly and thoroughly mix ingredients together, especially in baking. If you are offering baked goods or just need to easily mix wet ingredients, a whisk is the way to go.
Spatulas
For the most part, spatulas are used to flip food. From burgers and pancakes to fish and eggs, there's a specific spatula for each task and ingredient. Chefs appreciate having these tools in their professional kitchens.
Peelers
Sometimes the skin on food, usually a vegetable, is tough to eat or not as desirable and is best removed. For this, you'll need a peeler that efficiently removes the skin for you so you can get on with other tasks faster. In the same line as peelers, zesters are used to remove the flavorful parts of the skin on fruits, specifically oranges or lemons.
Tongs
Whether your restaurant operates as a buffet or you have food containers behind the counter that you need to constantly reach into, you are going to want to add some tongs to your kitchen accessories. They make picking up food easy while preventing multiple hands from touching everything in the container. Additionally, tongs can be used to flip thicker foods, like scallops, chicken breasts, or steaks, because they grip the food easier.
Graters
When buying your food in bulk, it is typically cheaper to buy foods like cheese and carrots in their intact form — unpeeled and uncut. However, if many of your recipes call for shredded food, you're going to need a grater. You can easily grate your food to anything thickness what a grater that has different hole sizes on it. There are many different types of graters available that can make food prep a breeze.
Logistics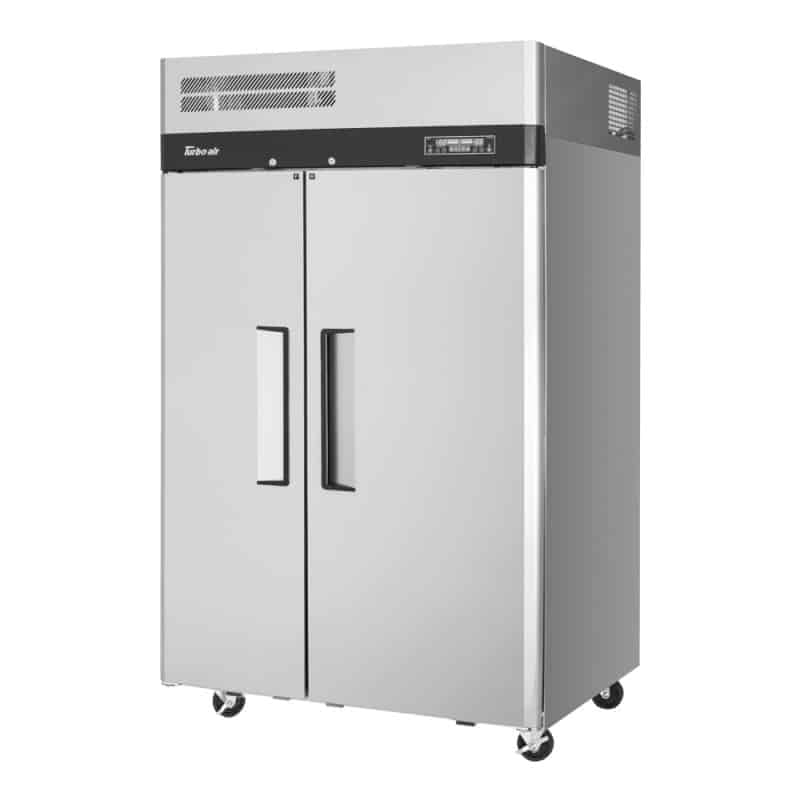 With all the things you need to cook and make food, there are also must-have logistical items required to operate a completely functional, professional kitchen. What happens in the kitchen affects the entire restaurant, which means many of your kitchen's logistical items are essential to the entire restaurant's success.
HVAC Equipment
When a typical restaurant is built, the required HVAC systems are put in place so you don't have to worry about them. However, there are additional pieces that you should consider, including air curtains that help to maintain a consistent temperature inside when doors are left open.
Refrigerators
To keep ingredients and prepared food fresh and protected, ample refrigerators must be a part of your kitchen. From walk-in fridges or freezers to stand-alone options, The Kitchen Spot Experts offers many choices that will fit your space and protect your food.
A few other investments to consider are ice machines, which can continually make and store ice for your restaurant and customers, water treatment systems, and beverage machines for areas behind the counter and in the front of the restaurant.
Prep Areas
Along with a place to cook and store your food, you also need a place to prepare everything. Prep areas can include tables, cooling pans, and heating pans to help you keep ingredients as you prepare meals for your customers.
Warewashing
In a professional kitchen, dishes, utensils, and other prep items have a tendency to pile up quickly, which can get in the way of the kitchen team. That is why top eateries invest in high-quality, high-capacity dishwashers that can quickly and easily help clean the dishes and help the kitchen run smoothly.
Kitchen Linens
While you may choose to have a standard uniform for your kitchen staff, you'll still need other kitchen linens. Add aprons, oven mitts, and basic towels to help protect your crew and keep the kitchen clean and professionally kitted out.
Sanitation and PPE
In addition to keeping dishes and prep items clean, you'll need cleaning supplies to maintain standard cleanliness. An additional investment is to add non-slip mats throughout the kitchen space to help guard against slips and falls. PPE, or personal protective equipment, helps to keep your employees as well as your customers, safe. PPE products can include cut-resistant gloves, hairnets, and more.
Point-Of-Sale Systems
To ensure that you can be paid for all your culinary offerings, you'll need a point-of-sale (POS) system that allows you to enter information on what has been sold, and for how much. A modern, reliable POS system can contribute to a positive customer and employee experience, and help create a smooth flow of patrons through your establishment.
Complete Your Professional Kitchen
Many factors combine to make a kitchen run efficiently and smoothly, and a large part of that is the set of physical objects found within the space. To get all of the must-have kitchen essentials for your professional kitchen, reach out to a Kitchen Spot Expert today.