Find Your Local Pizza Oven Dealer For Expert Advice
---
If you specialize in pizza, the quality and type of pizza oven you invest in will determine what styles of pizzas you are able to make.
The type of commercial pizza oven you use will also significantly impact the taste of your pizza, so it is a good idea to buy one that fits your business needs. Another important thing to consider when shopping for a pizza oven is the volume it can hold. If you plan to make pizzas that are larger than 20 inches in diameter, you will need to buy a larger-than-average pizza oven. If you wish to cook multiple pizzas at once, a deeper oven may be the right choice for you.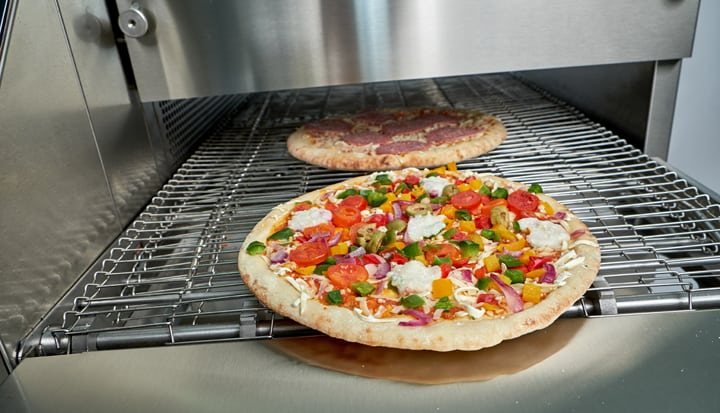 There are four types of pizza ovens. This list includes convection pizza ovens, brick pizza ovens, conveyor ovens and pizza deck ovens. A convection pizza oven takes up minimal space in your kitchen and uses fans to blow heat from a heating element throughout the cooking area. Brick pizza ovens are typically larger and more space consuming. The cooking chamber on these is made using bricks that are often heated using burning wood. A conveyor oven sends pizzas on a conveyor belt into a cooking area, allowing for quick and seamless cooking of pizzas with minimal interaction. Pizza deck ovens are large metal enclosed hearth ovens that can hold one or two pizzas at a time. Determining which pizza oven is right for your restaurant may not be simple, but it is important that you take the time to do so. The best commercial pizza oven is the one that helps you satisfy your customers while allowing you to work efficiently.
Although each style of oven has a clear advantage depending on your goals, no single style of pizza oven is considered the best commercial pizza oven. However, trusted restaurant pizza oven brands offer the best commercial pizza ovens for your foodservice establishment and The Kitchen Spot will connect you with local restaurant supply stores and design experts.
Expert Locator
Find your local kitchen supply expert