Commercial Griddles & Grills
---
Find Your Local Griddle & Grill Dealer For Expert Advice
---
Whether you are cooking a thick steak or a high volume of pancakes, you need cooking equipment that is customized to the task you are performing. Commercial griddles and grills are common utilities that are incredibly versatile, as they both can be used to cook a wide variety of foods. Grills can be used to cook meats, vegetables, and more, while the flat surface of a griddle makes it easy to cook breakfast foods like sausage, pancakes, French toast and eggs. Regardless of what you are cooking, you can rely on restaurant griddles and grills to allow you to cook a tremendous volume of food all at once, which allows you to maximize productivity of your kitchen.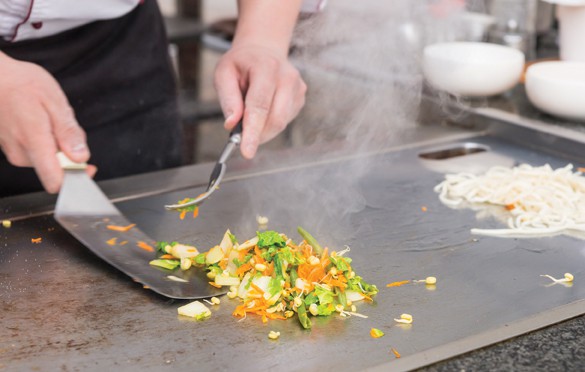 As opposed to a restaurant flat top, grills offer a cooking surface that features a series of slatted cooking grates that are suspended over a heat source. Grills are typically heated using gas burners or a pit of fuel, like charcoal or wood. Commercial grills are at their prime when they are heated around about 400ºF, as this is the heat which the metal grates are at their ideal cooking temperature. With the grates at such a high temperature, it is possible to get the typical "grill lines" that you see on most barbecue items. Restaurant griddles work best at about 350ºF, as this heat allows you to sear meat while not overcooking foods like vegetables.
Having both pieces of commercial restaurant equipment will allow you added flexibility in your foodservice operation. You can produce large breakfast meals or delicious grilled meats for your customers. Some options you may wish to consider in your search for commercial grills and griddles are Accutemp, Southbend, Star and Vulcan. All of these companies offer heavy-duty restaurant griddles, grills and charbroilers.
Whether you are making a classic hamburger or serving a continental breakfast, commercial griddles and grills will help you expand your menu and serve your customers at a faster pace. Let The Kitchen Spot connect you with a range of local experts to help add value to your busy restaurant venture.
Expert Locator
Find your local kitchen supply expert