Walk-in Refrigeration is ideal for foodservice operations that require an abundant amount of temperature-controlled storage space.
Walk-in refrigerators typically keep foods at a constant temperature ranging from 35 to 45 degrees Fahrenheit, while walk-in freezers are best operated at or below 0 degree Fahrenheit.
When choosing your walk-in refrigeration, there are several factors to consider. Namely, the amount of storage space your business requires, the type of refrigeration system you wish to use and the design features and accessories to leverage in your operation. Once you have evaluated all of these areas of your purchase, you are ready to pick a brand and manufacturer. When choosing a manufacturer of your walk-in refrigeration unit, you will need to decide between a custom walk-in unit that will be built to your specifications or a prefabricated walk-in refrigerator that is installed into your space.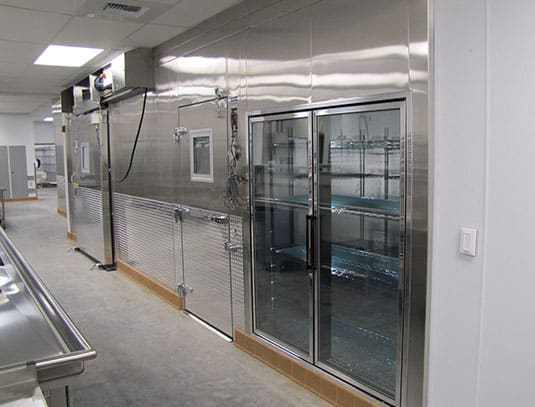 Built-in walk-in refrigeration units are more expensive, but allow an increased level of customization for foodservice establishments that have high volume refrigeration needs. They feature rooms that are coated with heavy insulation on the floors and walls. Although they may be expensive to install, built-in walk-in refrigerators are energy efficient and cost effective in the long term. If simplicity is your preference, then a prefabricated walk-in refrigerator is the way to go. They are slightly less durable, but easier to relocate if your business plans to expand or change locations.
No matter what your needs are, brands such as Bally, American Panel, Kolpak, and Imperial Brown offer solutions for your walk-in refrigeration needs. These trusted brands are leading manufacturers that provide customized solutions for the needs of your commercial kitchen. With any variety of solutions available for your space, The Kitchen Spot connects you with restaurant supply stores and design experts are standing by and here to help you choose the right walk-in refrigeration unit for your space.
Expert Locator
Find your local kitchen supply expert